Hi there, it's January which means all the largesse of December is over and we are all exercising and organizing. I miss December. I know a lot of us have less than ideal kitchens, so I wanted to share some tips on how to make your kitchen more funtional. Some of these projects take no time to implement, others require more effort but I tell you, getting your kitchen organized will make your day to day life SO much easier. If you don't know where to start, open your cabinets and look at everything. Are things grouped in a way that makes sense? Are pots and pans stored near the stove? Coffee mugs close to the coffee machine and sink? Is bread stored close to the toaster? Organize first and then start thinking how can I store these items better? Hope these ideas help!
Our kitchen is large but built in 1978, it is definitely a challenge to work with at times. It's large and has a lot of counter space but there are almost no drawers and cabinets are cavernous. The previous owners put in a marble countertops and white subway backsplash which makes it look better but it isn't very functional.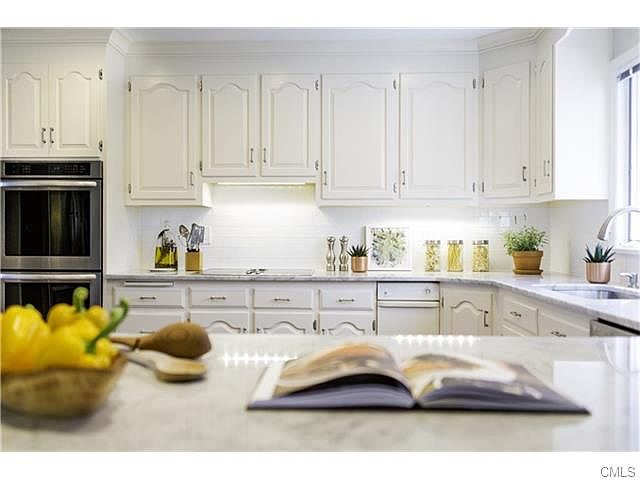 Here's what I used to organize my kitchen. The very first issue I had was that there was a trash compactor which I had no desire to grapple with. I had my handyman remove the compactor and build a simple pullout base with a door and ordered these Rev-A-Shelf pull out containers.
Then I moved the paper towels off the counters and mounted the paper towel holder under the cabinets so it's out of sight but right next to the sink. You can also mount it directly onto the bottom of the upper cabinets. I've used this holder in 2 of my homes and really like it.
I have a lot of space under the sink and I decided that I could that space to store my root vegetables and onions. I divided it into half, one for the pull out sliding container for veggies and the other half for cleaning products.
I'm using Container Store Elfa Medium Mesh Easy-Glider which you can find here. If you are storing shallots, garlic etc in there you must get a mesh container otherwise it'll be a hot mess. Installing it is pretty easy, just a few screws and you are in business. I really recommend getting the one that you attach to the bottom of the cabinet otherwise it will shift EVERY time you pull it out.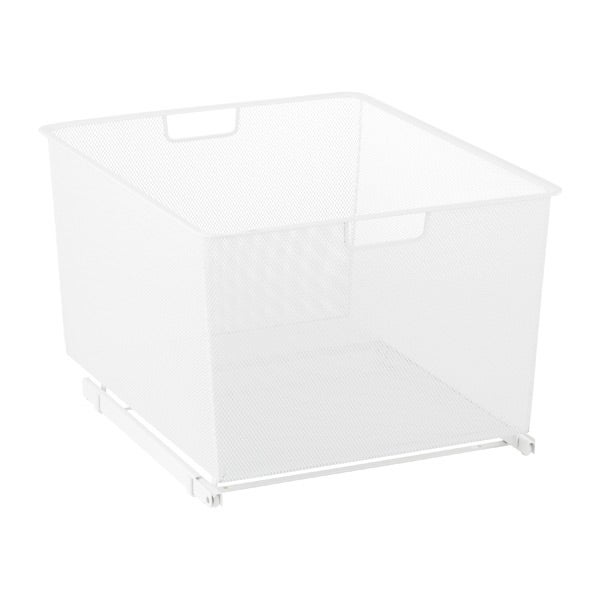 These Rev-A-Shelf 2-tier pull out containers are great for  storing and organizing cleaning supplies, pots and pans, bowls etc. Measure – measure – measure! These come in several sizes and can be attached to the bottom, back or the side of the cabinet.
I added a towel rack onto the left door as there's plenty of clearance for that.
These little door storage trays are so useful, if you have space those can go on any cabinet door for spices, bottles, condiments etc. Im using these for storing most used cleaning supplies and brushes.
Also love this pot organizer for storing your pots and pans with their lids.
All my tea bags were corralled into this handy container:
Coffee is decanted into this container, it's airtight, comes with a scoop and is narrow enough that it fits right next to my tea caddy:
I like to use tall narrow containers to maximize the space I have for storing flour, sugar, grains etc. If your shelves aren't very deep, maybe a more square and wider container would be a better fit. I like these plus they come with chalkboard labels already!
Now for organizing things like nuts and chocolate chips I use smaller containers that are stackable such as these.
The Lazy Susan turntable may be the unsung hero of all organized kitchens! I have several in my corner cabinets, upper shelves, and in the fridge also! Once again, measure several times, these come in different sizes, so you just need to make sure it will fit your space.
I use this one in the fridge
And last but not least: sponge caddy! I love that i can stick it into the sink so it's not visible.
I hope you found some of these recommendations helpful. Let me know if you have any questions or have found some other profucts not mentioned here that were useful!
Till the next time!
x
-h