This week's house is a charming country house in Weston. I love the original wood doors and beams, these are increasingly hard to find and expensive. I hope you can see through the decor how special this home is as it will need some redoing. My number one pet peeve with home owners and stagers also, is when they try to make a house something it was never suppose to be! You can't turn a ranch into a colonial and you shouldn't stage a classic colonial in very contemporary style. There is such a disconnect. Enhance and work with the features you got (applies to humans also, lol). Ok, let's have a look.
Entry – the doors, the floor – love it all. Perfection.
The front of the house, I like the garage but the exterior overall seems off. I'd paint the window frames white so they blend in better. Love that front porch.
I don't love their furnishings at all. Wall color is all wrong, I would wallpaper this room something cozier, and what is with that arched doorway? Out! Console is asian influenced, lamp Moroccan, it's all over the place.
This is the direction i would go – Ralph Lauren country.
Or a little bit more transitional look.
Here's the eat in kitchen. The house has such lovely wood doors and beams, you really shouldn't add to it in furniture. I don't like that lamp and I think round table (not as clunky) would look better in that space.
I'd also swap out lights over the island, they are too small and thus not in proportion. Love that beam and the size of this island! It's a nice open floor plan. I'd lose those leather chairs and use club chairs upholstered in fabric. I'd also hang that TV on the wall. Think how cozy the Christmas morning breakfast would be with the fire going!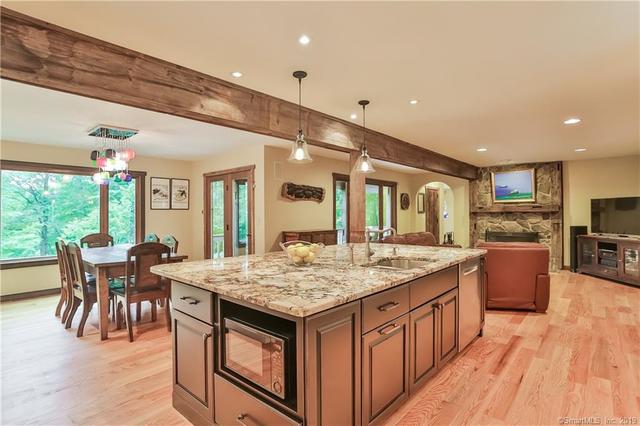 Love this space and the light and the beams. I don't like the overhead lights! Good in kitchens, closets and gym, not in living rooms. Noone looks under these and they take away from those gorgeous beams. Wall sconces would be my recommendation, dimmable and on single switch. This appears to be a 4-season room, so I would decorate it as such. Carpets, different wall color, comfortable seating with few side tables scattered about. What an amazing spot for morning coffee and newspapers or evening cocktails!
Mudroom.
Master with a fireplace.
Closet is actually a decent size but they are not using it too well. It really pays to get a closet company come measure and plan it out for you. I know it's not inexpensive but so it worth it. I would do pull out drawers (deep ones) where they have shelving and have built in shoe storage and shelving around the window. I'd put an island with a bench in the middle if space allows.
Master bath – I like the beam and chandelier, I would however paint the vanities white.
One of the other bathrooms.
Great laundry room – a really well thought out with plenty of storage. Why is that cherry wood everywhere? Besides, I would just do laminate or some inexpensive quartz there. Wood would not do well with water.
Outdoor space.
5 beds, 4.5 baths, playroom, gym. 3 car garage, kitchen has top of the line appliances. It's also right next to Devil Den's hiking trails – it's the largest preserve in CT. More details here.