Good morning friends, hope everyone had a great weekend. Between traveling, having family over and volunteering at a massive tag sale here in Wilton, CT I am beat. Garden Club's 80th plant sale is coming up next! It's amazing how quickly things are growing in my poor neglected garden, must return to it soon!
1.West Elm is having a sale on their outdoor furniture, 40% off plus additional 15%. I used to love dark wicker but I am liking some of the concrete options, they look more modern and sleek.
2.If you've been reading my blog, you know I am really into holidays. I like that our at times crazy lives are dotted with regularly occurring celebrations that are centered on what matters most – our family and friends. I was managed the holiday department of that large tag sale and apparently a lady came twice to unload huge bins of holiday decor: Christmas, Easter, Halloween and 4th of July. Apparently her kids had grown up and she was clearing out. As I looked at the 4th of July banners and beautifully embroidered light blue bunny napkins, I felt so sad. I donate my old holiday stuff to schools etc but there are items I can't see myself parting with. I had to wonder, will I be doing it one day also, getting rid of decades worth of accumulation. I guess it's just stuff, memories will remain with you…
3.I am going to leave you with this quick video of Windsor Smith home – if you don't know she is this fab glam bohemian interior designer. She is so talented and I am obsessed with her black kitchen. I know white and grey are all the rage right now but it is so refreshing to see something completely different.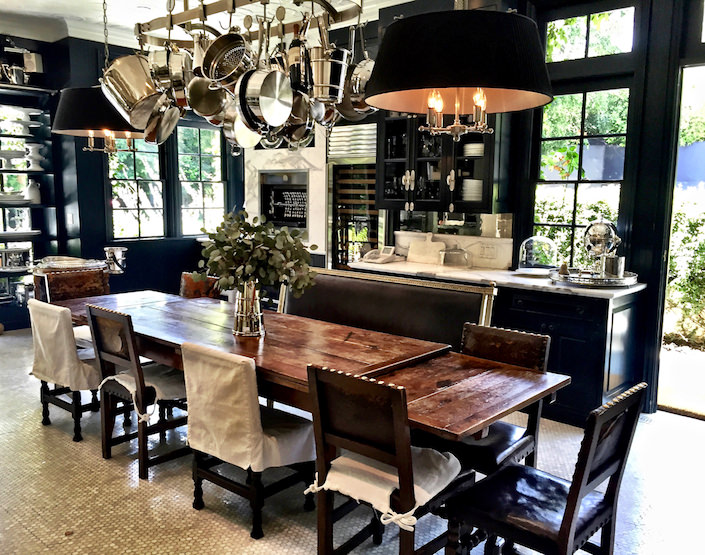 Susanne Salk is interviewing her, if you are local, Salk will be at Wilton Historical Society's Objects of Desire preview cocktail party on Friday May 31st.