Good morning and happy Monday! One week left till summer break also known as the time when my grocery budget skyrockets as kids will need snacks like thousand times a day!!!
1.Speaking of food: made the Mediterranean Grilled Steak Flatbreads for dinner on Sunday and we all loved it, kids even tried red onion and thought it went well with steak. I used skirt steak and instead of a spice rub which I knew would repel the kids, I used this marinade here. You must measure out the marinade exactly, I've used this recipe before and once used half a lime on it and steak has a really sour taste to it. I also threw some olives on the plate and thought feta cheese wasn't needed. I used regular Stop&shop naan bread (the brand was Stonefire), the Trader Joe's garlic one had twice the calories! It's a heart healthy dish in that it uses hummus and veggies, you could use chicken  or fish also. Find the recipe here at Domesticate Me!
2.This week the weather has been up and down, over the weekend while kids were at Girl Scout camp I did some gardening but then had to retreat indoors and attempted to organize my Christmas section. The plan was to get to other holidays also but that didnt happen. I felt quite overwhelmed. Pardon the super bright lights. This is the Christmas section, part of it is behind the wall and there's some stuff in the attic. I lost count how many bins I have, at one point they were properly labeled as White, Red, Candy, Birds, Picks etc. Now there are at least 3 or 4 that just contain picks. Sigh. Please note the newest addition – this darling Nutcracker, a gift from a friend from the Wilton Garden Club. So now I have her hostas and her Nutcracker! Cannot wait to put this bad boy out – to boot he holds a sign that says Welcome. 🙂
Over here I had my hubs install a bunch of hooks for garlands and wreaths. You can see about 1/3 of the wall. The box against the wall are outside garlands. I don't even know what to do with all that. Obviously need to edit and donate some stuff. And must NOT BUY ANY MORE GARLANDS. It is just SO hard not to. You need to have enough garland for the fireplace and staircase. Then you need options: colored lights, white lights, flocked garland, magnolia garland. I dunno. I have the I have OCD – obsessive christmas disorder – shirt which I thought really applied till I read that it offends people who have actual OCD. I feel like I ought to wear that though.
3.Read this interesting article on how women worldwide are losing money because they agreed to become beauty salesreps. I am sure we all know someone. I really hate to be asked to go to these parties and never go.
'They have you in a cultish grip': the women losing thousands to online beauty schemes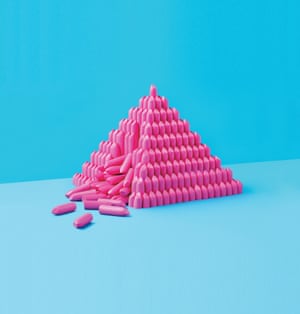 4.Do you grow peonies? I love them (I know so original) and have waited for decades, ok, a few years, till they finally bloomed. Did you know if you transplant them, they wont bloom that year? It took forever to get them going but they were worth the wait. Zephirine Drouhin rose also didnt bloom the first year but look at her now!
I hope you had a relaxing weekend! Let me know what your gardens look like!
xo
-h